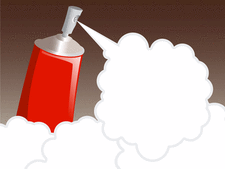 DermMatch outperforms bald spot spray. DermMatch looks better, stays on better, applies neater and costs less to use.
No product in the world can make your hair look as thick full as DermMatch.
Bald spot spray can't compare to DermMatch Topical Shading. DermMatch looks better, stays on better, applies neater and costs you less to use. We guarantee it.
DermMatch works for men and women of any age, hair color, skin color or hair style. You can even apply it dry for shaved heads, bald heads, beards, eye brows, hairlines and grey roots. DermMatch is loaded with botanical and naturally derived ingredients. Emollients in the DermMatch formula soften and moisturize your skin.
Looks Better
Botanical ingredients in DermMatch coat the entire hair shaft. Thin hairs thicken, stand up and spread out for spectacular fullness. Ultrafine powders in DermMatch blend right in with your skin and leave your hair looking thick, smooth and natural. Bald spot spray shoots out of a nozzle and make a mess of your hair. Customers say that sprays make their hair "look like hay" and appear very unnatural.
Stays On Better
You can dive in a pool or sweat at the gym with DermMatch. Go ahead and brush your hair. DermMatch stays on. Don't try this with bald spot spray. Sprays can leave your hair matted and impossible to brush. Sprays also run very easily in water.
Applies Neater
Only DermMatch gives you EZGrip, EZReach applicators. They make application quick, clean and precise. You can create natural hairlines, temples, eyebrows and beards. Sprays make colored clouds in your home. Sprays don't give you any control. DermMatch gives you perfect control at your fingertips.
Costs Less To Use
DermMatch is a solid. It lasts a very long time. The average reorder time across all customers is 8 months. Spray concealers come in a can full of propellant. One solid disc of DermMatch lasts much longer and costs you less to use.